"The theory and development of computer systems able to perform tasks normally requiring human intelligence, such as visual perception, speech recognition, decision-making, and translation between languages."
As the digital world continues to evolve, digital agencies continue to evolve their tech stacks in order to provide the best services to their clients.
We surveyed 17 marketers from digital agencies to uncover how they are adopting software, mar-tech platforms, and emerging technologies. Our goal was to understand if and how they use artificial intelligence throughout their marketing channels.
Our first question asked about the adoption of artificial intelligence in each of their respective organizations.
The results were unexpected.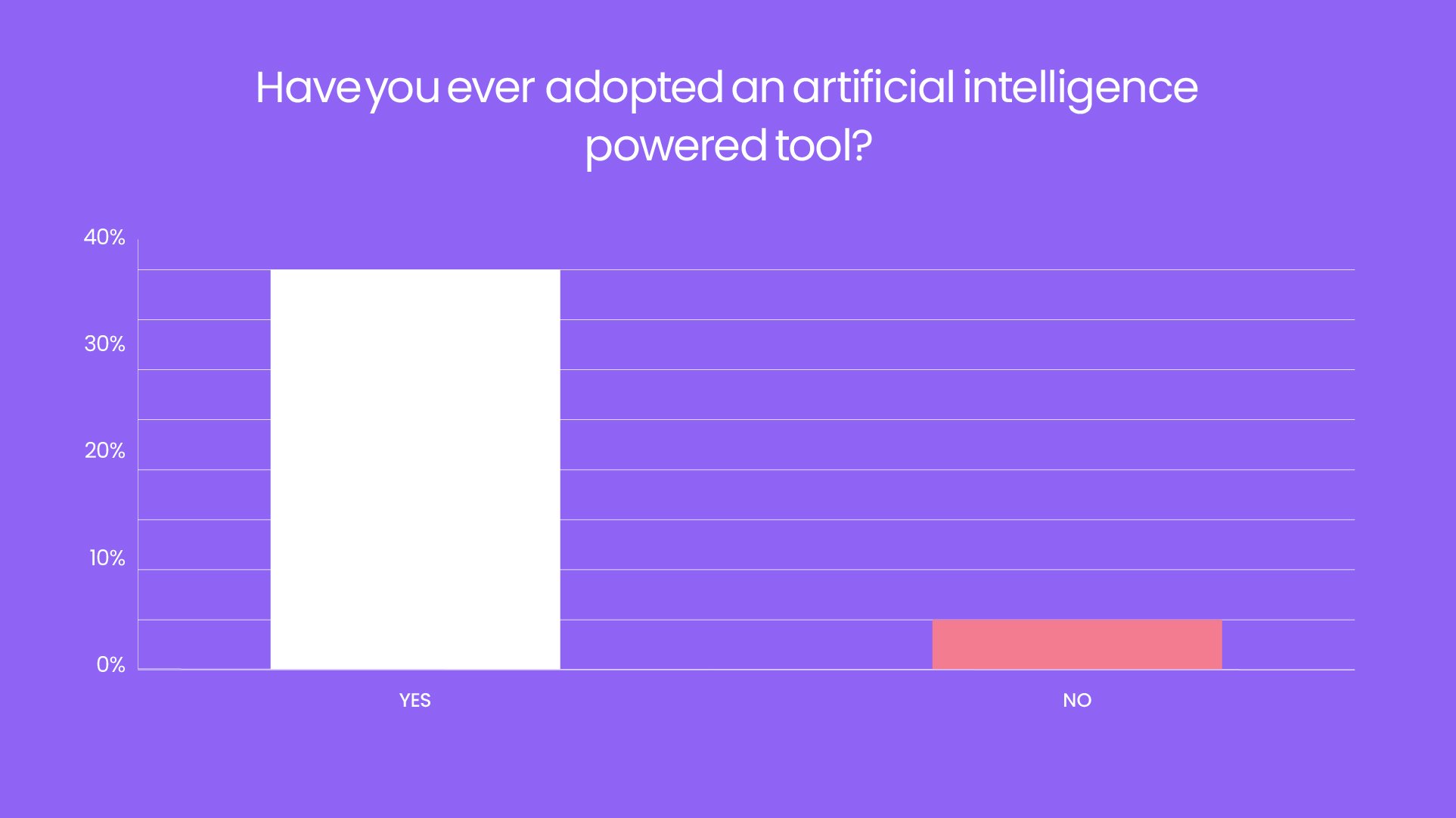 According to the surveyed marketers, 90% of them have adopted a tool, platform or software that is powered by artificial intelligence. Let's dive deeper.
We first chatted with Steve Christian from HTM Solutions, "As a marketing professional with a deep technology background, I have been somewhat critical about the differentiation between the true applications of AI techniques and the more common insertion of an AI label into press and marketing material as a way to try and ride a hype curve."
"The time is certainly ripe for use of large collected data sets as a way to train AI systems, but there's still a lack of maturity in considering the testing and validation process that's necessary to apply the tools to any truly critical application,"
As this process unfolded, we realized how important it is to understand how agencies use AI-powered tools and what they use them for. Interestingly, 28% of the marketers surveyed use artificial intelligence-powered tools for data analysis and audience personalization.
Ironically, less than 5% of marketers surveyed use AI for content creation. Worth noting, chatbots (23% adoption) and content recommendations (14% adoption) also fall into this marketing AI bucket.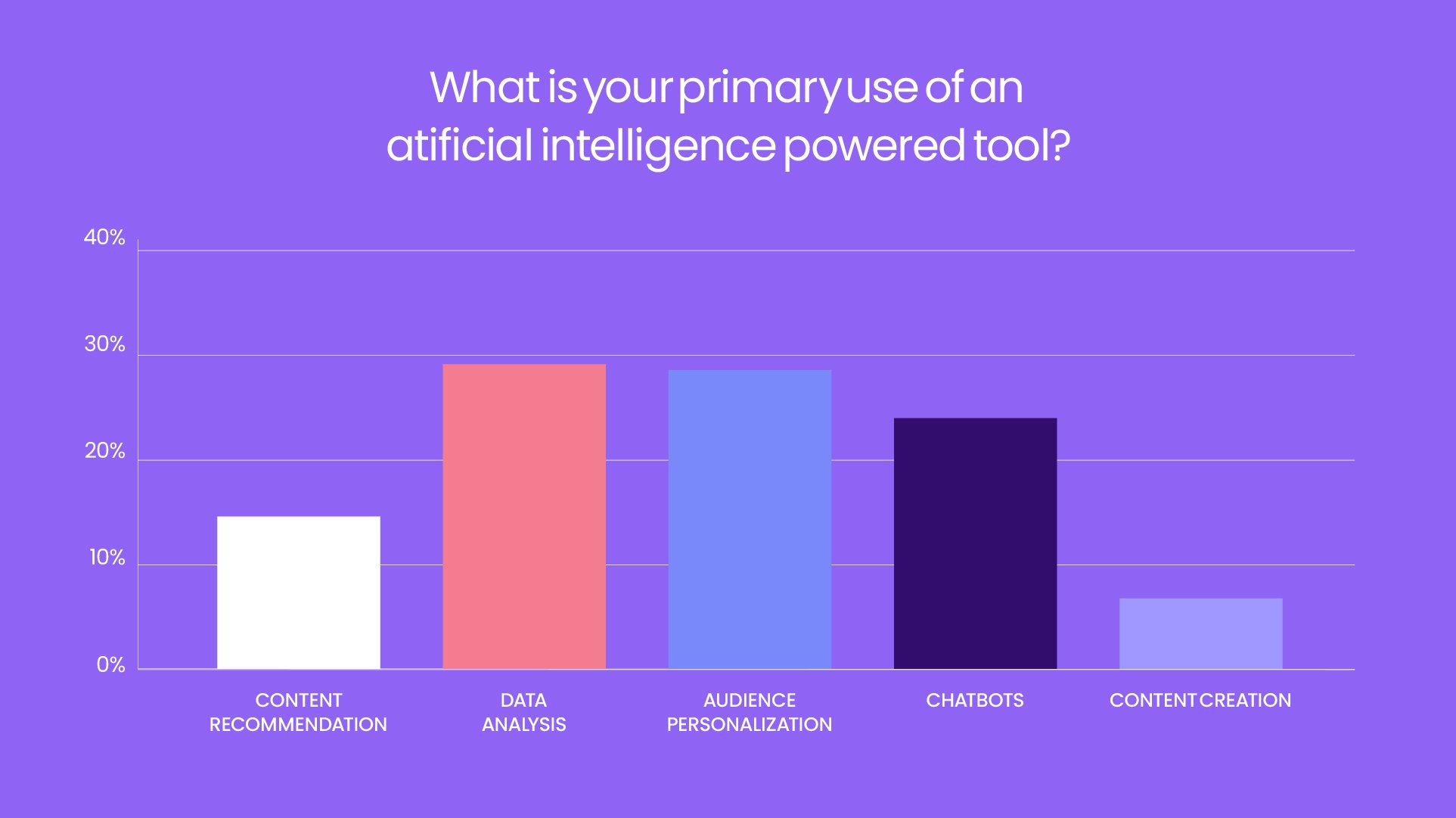 Our quest for information continued with Tom Jenkins from CloudTask, "AI has had a great impact on our lead generation efforts. Through using Conversational Marketing with intelligent targeting and messaging, we've seen a 30% increase in qualified leads generated when we're not in the office."
Moreover, Jenkins explains, "we mostly use our team to man conversational marketing in the day, but on weekends and evenings, it's all AI and it's always nice to come in on a Monday with a wealth of new leads."
As the research continued, patterns emerged. The most relevant pattern (in our opinion) being that most agency AI adoption is human-assisted. This pattern is especially dominant in the paid advertising ecosystem across Facebook, Instagram, Snapchat, TikTok, and YouTube.
Lonnie Ayers from SAPBW Consulting Inc. agrees with this notion and believes the biggest impact of AI is squarely in paid advertising space.
"Its biggest impact is in the area of PPC advertising. Google seems to be getting much better at optimizing using ML and AI. The SEO recommendations from HubSpot are now much more advanced than they used to be," she explains.
"It's allowing us to interact with customers 24/7 and address commonly asked questions," says Wendy Lieber from Content Bacon. "It's also a great way to interact with prospective employees."
Andrew Kucheriavy shares a bit of a different perspective on how he and Intechnic use AI, "We are leveraging Adobe Sensei to augment our analytics skills. We use artificial intelligence to help with anomaly detection, contribution analysis, and intelligent alerts; this allows us to recognize various patterns, where they are outside of the norm."
He continues, "we can leverage the power of AI to explain fluctuations as well as do an in-depth analysis for what is contributing to those fluctuations. This is something that saves us a lot of time and allows us to turn around analytics reporting to our clients much quicker."
Our Takeaway
AI will continue to improve the way marketers create, deploy and report on brand-directed campaigns. This has a trickle-down effect. Brands get more transparency with machine learning (ML) and AI tools when applied to a campaign initiative. And more transparency leads to long-term revenue relationships, higher customer AOV and LTV. Our opinion is that forming trust through transparency and performance is a great way to retain a client. Agencies that embrace AI and intelligently create, deploy and report on their clients' media spend to share this sentiment. Marketing and AI will continue to evolve. Arguably, innovation has happened somewhere, someplace while you read this blog.
See RAD AI in action - Book a Demo!
---
Jeremy is the co-founder and CEO of Rad AI. His mission is to connect data science to creative decision-making and give marketers the power to make AI-informed decisions.