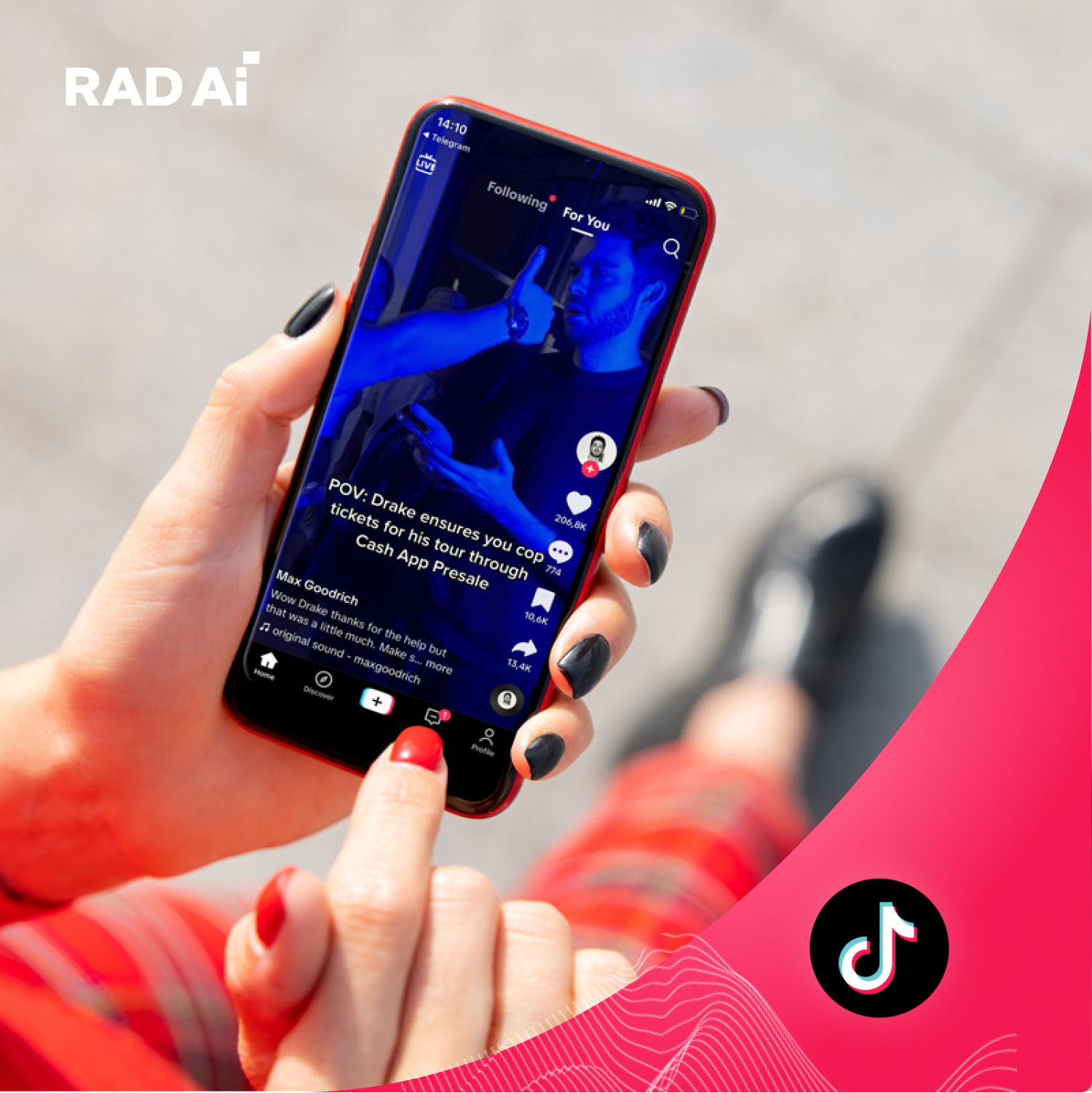 Leveraging TikTok Viral Moments
by Seth Weinkranz
How RAD AI Connects Content and Creators to Your Customers
TikTok viral moments indirectly showcase what your customers resonate with the most and why. The reality of pinpointing the "why" can be elusive however.
By analyzing over five billion data points, RAD AI has identified several consistent content patterns that mark successful TikTok influencer campaigns, and we love sharing.
Timing can be one of the toughest tricks to master, often differentiating a TikTok hit from a near-miss. The right meme at the right time can catapult your brand to viral fame. But if you miss your moment, by the time you launch your influencer marketing campaign, the meme you're trying to ride may have outlived its fifteen minutes of fame.
High engaging TikTok moments don't directly teach you the art of virality. What they really teach you is how consumers interact when a primary interest is combined with a secondary interest in the content. It's this combination that actually holds the potential to create evergreen viral content. The science of TikTok viral marketing is identifying content opportunities and then infusing your brand into that cultural moment.
But how can you track content patterns with viral potential? What defines the nuances of a viral TikTok moment? How do marketers study the creator journey to partner with the next trendsetter? And the biggest question is, how can you use TikTok viral moments to guide quantifiably better influencer marketing?
Until now, getting the answers to these questions right has been a matter of chance and luck. TikTok viral marketing consisted of jumping on trends and hot topics reactively, not proactively.
Ah yes, but times have changed. AI-based creative intelligence makes it possible to generate predictable, consistent ROI from TikTok influencer campaigns. By proactively leveraging persona-based creative intelligence - we've actually cracked the TikTok viral code. Marketers now have the ability to track patterns and ROI on TikTok campaigns, empowering influencers to generate consistent, measurable results.
In this blog, we break down how to leverage viral moments with artificial intelligence and create quantifiably superior influencer marketing content. We'll show you exactly how to transform your middle of the road influencer marketing performance into culturally relevant viral moments on TikTok.
To illustrate TikTok virality in action, we'll review an example of an effective TikTok influencer marketing campaign featuring Mr. Beast, a meme of Canadian rapper Drake and Instagram creator Max Goodrich.
We'll break down what goes into a TikTok viral moment and what it takes to convert that same moment into a successful influencer marketing event. And we'll reveal the proven, data-driven method RAD AI uses to deliver successful TikTok influencer marketing campaigns by connecting the right viral content strategy with the right creators.
Breaking Down a Viral Moment, Drake Meets Max Goodrich
To illustrate the anatomy of a TikTok viral moment, let's look at a recent example featuring Drake. Philadelphia photographer MirShotEm started the meme in June 2022 when he posted an Instagram video of Drake having a dance battle with Philadelphia rapper 2Rare in a Miami club while the two were shooting a music video for Drake's song "Sticky" - As Drake is dancing, he licks his fingers and moves his hand off-screen momentarily.
This inspired a steady flow of gossip and meme speculation about what Drake was doing with his fingers. Instagram creator Max Goodman, known for adding comedic special effects to videos, rode the meme's viral momentum by posting a TikTok video in January captioned "POV: you're at the club with Drake".
The edited video shows the rapper dipping his fingers in Goodman's drink, poking his nose, and slapping his cup away. Goodman commented on the video, "Why is he such a bully[?]" So far, this video has generated over 4.4 million likes, 23,300 comments, 421,900 favorites, and 167,300 shares.
In March, Goodman followed up by editing his original video to promote an influencer marketing campaign for Cash App, a mobile payment service selling tickets for Drake's concerts. The new video was titled, "POV: Drake ensures you cop tickets for his tour through Cash App Presale". In this version of the video, instead of dipping his fingers into Goodman's cup, Drake grabs his cell phone, pushes a button to buy tickets for his concert through CashApp, hands the phone back to Goodman, and slaps him.
Goodman commented, " Wow, Drake, thanks for the help, but that was a little much. Make sure you get access to 'It's All A Blur Tour' early with your Cash App Card during the Cash App Presale." He followed this up with a link and hashtag to buy tickets. This new version of the video so far has generated over 206,300 likes, 700 comments, 10,600 favorites, and 4,600 shares.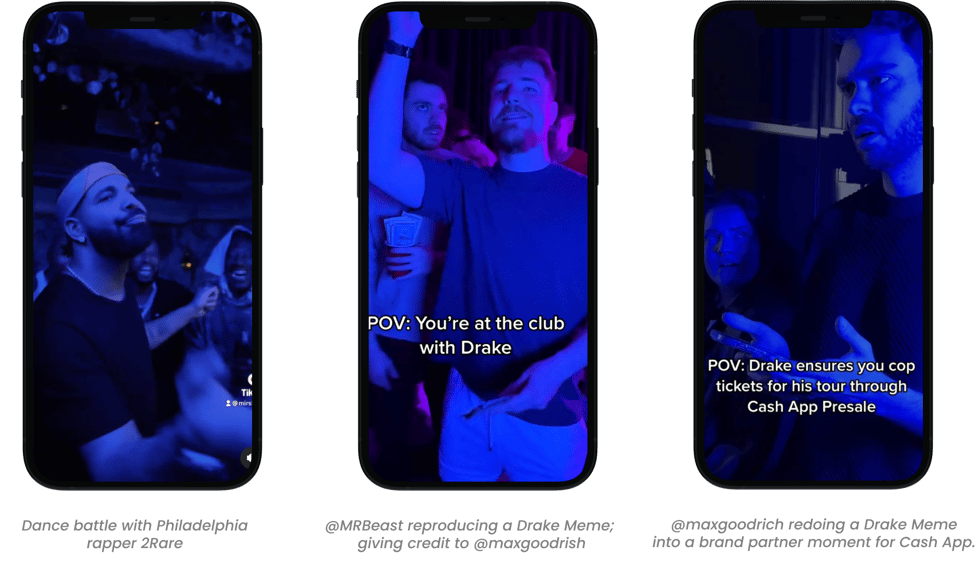 To put the results of CashApp's influencer marketer campaign in context, TikTok uses an algorithm that promotes videos to a user's feed based on their profile and behavior, including videos they like, comment on, and share and accounts they follow.
Every time a TikTok user engaged with someone posting MirShotEm's original video or a derived meme, it increased the probability of them seeing Goodman's new original content. This multiplied the impact of Goodman's own Cash App video many times over.
The result is influencer marketing success for CashApp. Put quite simply, the TikTok Algorithm recognizes that people want to see the content and the creator is being smart by integrating a brand deal into that viral/cultural moment. Even more interestingly, world famous creator @MrBeast recreated that same viral moment with exceptional results.
The Anatomy of TikTok Cultural Moments
What does it take to turn TikTok videos into viral moments that propel influencer marketing campaigns?
First, you need an original video that has viral momentum or has the potential to do so with a push. Sometimes this happens organically and it also can be planned out systematically.
It goes without saying that if you've got well-known celebrities like Drake on your team, or if you're working with professional creators like Max Goodman, you can create a compelling viral video. That said, most of us don't have that luxury, so let's carry on.
Next, the original video must target the personas that match your brand and objective. Identifying the primary or secondary interests of your brand ensures the content will actually resonate with your target customer.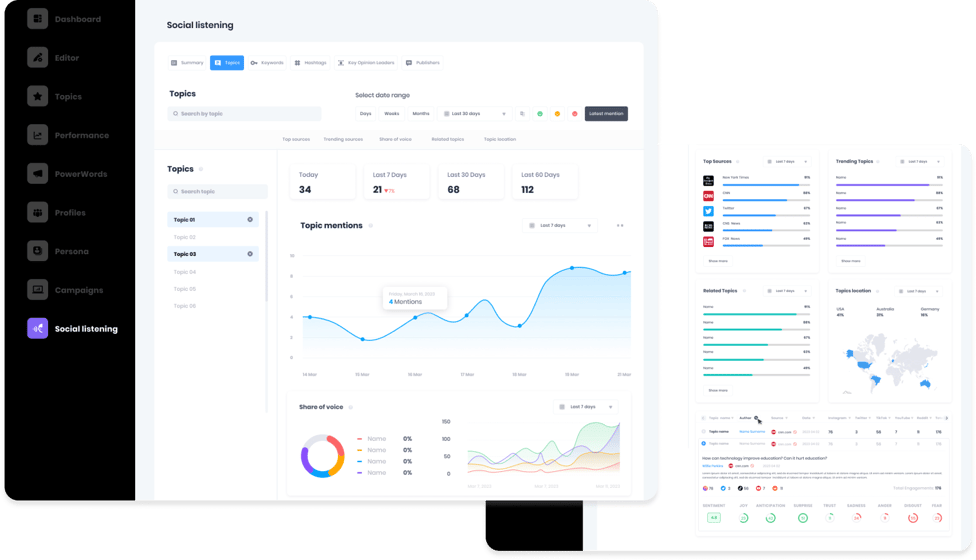 Pro tip*
Use RAD's Social listening capabilities to find patterns and create AI-informed personas that include categories, topics and interests.
In the example provided above, we see multiple conversations happening in the TikTok comments. MirShotEm's original video of Drake achieved viral momentum before @MaxGoodman recreated the moment. The 2nd, 3rd and 4th videos were destined to be hits before they were created is the point.
Goodman's initial edit of Drake's video rode the existing cultural wave and created a new viral meme. Additionally, Goodman's second edit for CashApp created a meta-meme riding the momentum of the previous waves. We learned validation of buyer personas interacting with the first two videos, and like magic - the sponsored video contents works like a charm, win-win.
In the CashApp phase of the viral trend, a third essential element was added to the mix. At some point in the process, whether in the original video or in follow-up videos, the campaign must connect the video to a marketing message that reaches a segment of the video's audience.
To achieve monetization goals, the marketer must know which audience segment will resonate with the cultural moment. If this information does not exist, then marketers are frankly guessing.
Transforming Cultural Moments on TikTok into Influencer Content
RAD AI helps brands achieve viral TikTok success by harnessing the combined power of data, artificial and human intelligence – 600+ API connections draw data from an unparalleled range of sources, including TikTok, Meta and Reddit. The insights we gather from these platfroms are then put to work to create award winning, cuturally relevant content on TikTok.
Here's how it works:
Step 1: Define Campaign Objectives, Benchmarks, and Timelines
We start by setting measurable goals, benchmarks, and schedules to guide your campaign performance. During our discovery process, your client success manager uses RAD AI to reveal the optimal creative strategy while setting quantifiable performance goals.
As you proceed through our onboarding process, we use measurable key performance indicators to establish benchmarks based on your historical content performance. Your campaign goals are converted into a clear roadmap marked by predetermined targets and timetables.
Step 2: Create AI-informed Personas
After approving your campaign goals and metrics, we use our proprietary data resources to generate AI-informed personas representing your target audience. We mine over 26 million daily Reddit conversations along with TikTok and our 600+ API connections to provide insights for the target market. We help you understand what your customers and competitors are doing, why they're doing it, when they're doing it, how they're doing it, and who they're doing it with.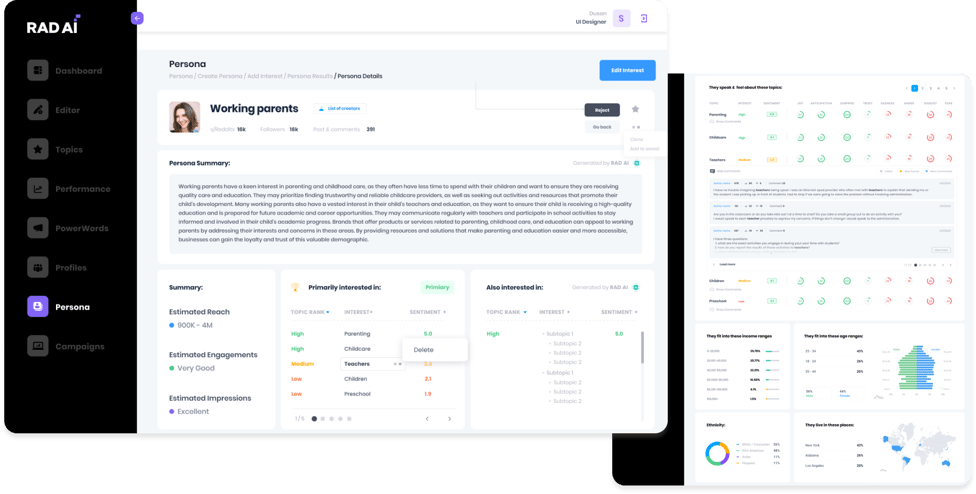 Step 3: Confirm Creative Strategy
With your audience persona set, we develop a creative strategy that matches the market you're trying to reach. Focusing on who your audience is in relation to your marketing objectives, we use our AI-powered data analysis to identify what your audience cares about the most, why they're a good match for your campaign, and where and when you should publish content to reach them.
Applying this to TikTok, we let you know whether TikTok's platform is the right place to reach your audience, what types of videos they watch, what length of videos they prefer, who they follow, and what they like.
With this information, we recommend a TikTok content strategy optimized for your specific audience. Working with your approval, we confirm a strategy that represents the right fit for your campaign objectives.
Step 4: Recommend Growth Phase Creators
Once we've decided on what type of content you should create to achieve your objectives, we match influencers and KOLs. Using our AI, we identify the top 1% of KOLs and influencers who match your goals, audience persona, and creative strategy.
Through our platform, clients manage talent recommendations and content approvals. Quality assurance and FTC compliance review are also conducted prior to any content being published.
Once your content is ready to go live, we help you distribute it. We assist you with reviewing your content at scale, managing your assets, and adapting your content for paid amplification.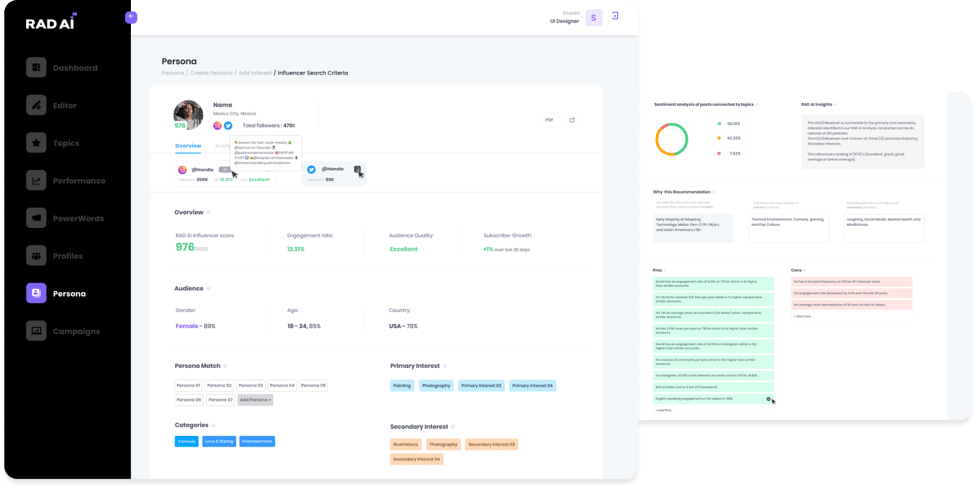 The Results of RAD AI Informed Content
RAD AI brand partners get quantifiably better performance and more ROI from AI-informed campaigns.
We've worked with brands across a wide range of industries, from media and entertainment to finance to consumer packaged goods and toys. No matter what industry you're in, we can help you achieve predictable, profitable influencer marketing results. See RAD AI case studies here.
You don't have to wait for TikTok viral moments to happen by accident or chance. Leverage our AI-informed personas to connect with right influencers and KOLs capable of helping you create your own viral trend or ride existing moments to influencer marketing success.
View a demo to see our solution in action, or contact a team member today to discuss how we can help take your influencer marketing to the next level.
---
Written by Seth Weinkranz
Seth has 10+ years of experience in developing and executing global influencer-led initiatives cross-platform for Fortune 500 Brands. Today, he is a senior Account Manager with a history of working with prominent entertainment studios, lifestyle & sports brands. This, alongside with Seth's background in talent management enables him to build win-win business partnerships for both talent & brands.