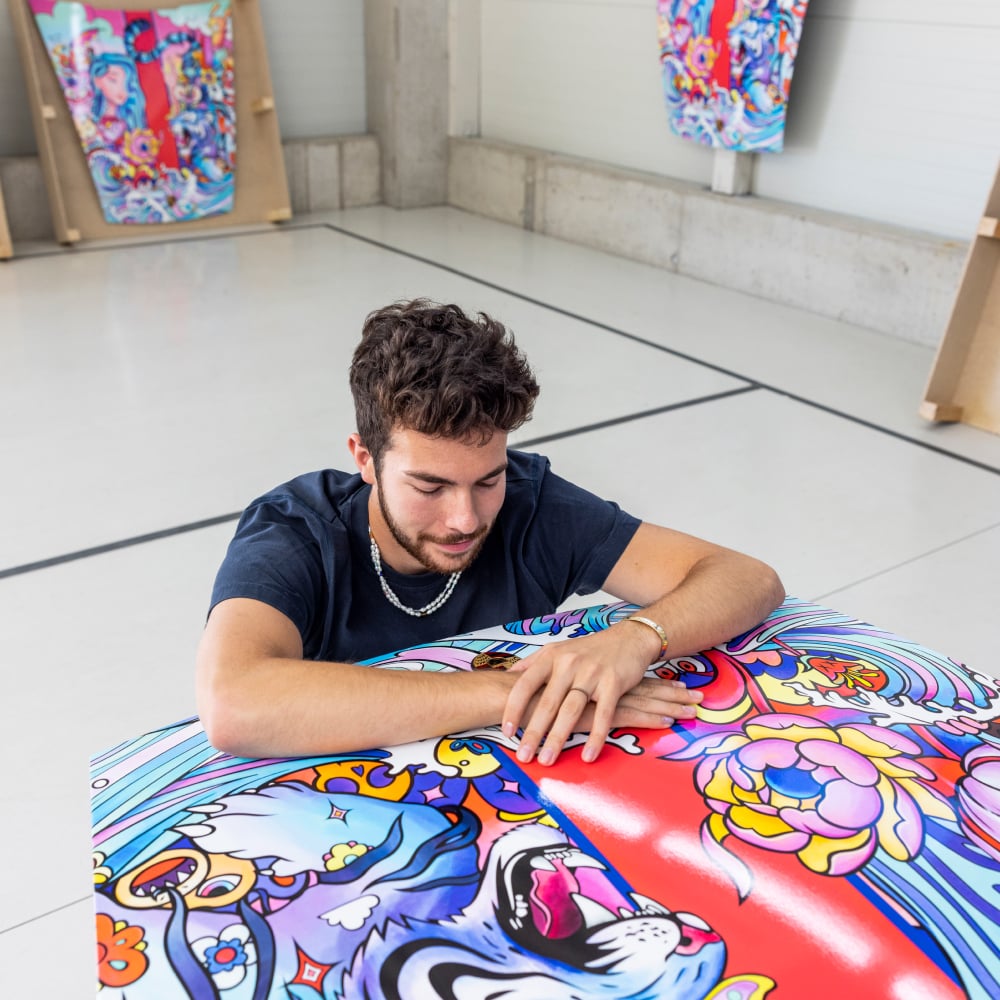 Visual Art Meets AI-Backed Creative Intelligence
by Tyson Black
Visual Art Meets AI-Backed Creative Intelligence
RAD AI is proud to announce we're launching a new, first-of-its-kind product, RAD Visual Arts, in partnership with LNDMRK, today's most elite visual art agency.
Famed as the producers of Mural, the world's largest street art and music festival, LNDMRK counts partners like Apple, Nike, and Porsche among its clients. Now we're partnering with them to combine their best-in-class visual arts marketing services with our industry-leading ROI-based influencer technology.
By bringing together the best of visual art marketing and the cutting edge of innovation in influencer marketing, RAD Visual Arts provides our clients with unprecedented opportunities to leverage the power of visual media. RAD Visual Arts lets brands collaborate with best-in-class creatives to develop unique products, cultural moments, content, and community. Read on to learn how RAD Visual Arts can bring your brand an entirely new dimension of cultural activation by turning your marketing into world-class art.
Courtesy @Gawx Art and @NordVPN
Differentiating Brands That Care about Authenticity
Authentic brands are who they say they are. Their company values, passions, and vision shine through everything they say and do, from their advertising campaigns to their products, to the way they treat their customers. They don't say one thing and do another. Their customers know they're real, not fake.
Authenticity is a vital ingredient for influencer marketing success. Influencers have large followings because their customers share their passion, identify with them, and trust them. This trust carries over to brands they partner with. When an authentic influencer endorses a product, their followers value their recommendation.
But when authenticity is lacking, so is the value influencers offer to their partners. If audiences don't trust an influencer, mistrust is going to carry over to your brand. Without authenticity, influencer marketing will backfire.
RAD AI has partnered with today's most forward thinking brands, partners and visual artists to cultivate authenticity through authenticity. Our collective extensive knowledge of the global art scene provides provides unparalleled access to today's most in-demand artists, producers, and creatives---Key Opinion Leaders like:
Each of these artists has large numbers of loyal followers that eagerly await their next creation. Through our first of it's kind partnership with LNDMRK, we help artists and brands meet this anticipation by promoting custom, one-of-a-kind art integrations, delivered via brand specific marketing campaigns.. No two programs are the same, with each production expressing the uniqueness of each artist and brand. This makes each artistic production an authentic, unique creative event which is both culturally significant for communities and financially profitable for brands.


Courtesy @DonnaAdi and Nestle
AI-backed Visual Art Delivers ROI with Creative Intelligence
How do we make a best-in-class approach to visual art marketing even more effective? By optimizing it with artificial intelligence. Through our RAD Visual Arts partnerships, cultural moments now meet data science.
RAD AI is bringing visual art marketing the same data-driven ROI standards we've introduced to other segments of influencer marketing. Before RAD AI revolutionized the industry, decisions in influencer marketing were based on intuitive guesswork rather than objective data.
In contrast to other paid advertising media, influencer marketing has suffered from a lack of standardized key performance indicators, data collection guidelines, and analytics tools. KPIs vary widely from platform to platform, leaving results open to subjective bias. Data from one platform may be oversampled, while relevant data from other sources is overlooked. Inconsistent measurement standards and biased data inputs skew data analysis and yield misleading results.
Because of these limitations, decisions about influencer selection, audience niches, and content strategy often end up being based on incomplete data sets. Unscrupulous marketing agencies and influencers take advantage of this situation, showcasing irrelevant KPIs that don't translate into real ROI.
RAD AI puts an end to this by bringing data-driven standards to ROI-based influencer marketing. Our proprietary AI platform uses over 600 API connections to deliver unbiased creative intelligence that informs campaign concepts, content production and influencer selection. This yields better ROI across the entire marketing mix in a transparent, scalable manner.
Our commitment to authenticity begins with our API partner Reddit. As most of us know, Reddit prioritizes authentic conversations between real people sharing their honest experiences, opinions, and feelings. This makes Reddit particularly relevant for marketers looking to better understand target audiences and the messaging they care about most. .
Reddit is one of the 600+ API connections we use as a resource for actionable creative intelligence. Some of our other partner connections include Google Analytics, TikTok, Meta, Twitch, YouTube and more.
Our cutting-edge AI and analytics methods pinpoint the information most relevant to our clients and their campaign goals. This enables us to make customized, data-based recommendations about which audiences to target, what type of content strategy to use, and which influencers to work with. We update our recommendations in real time as campaigns unfold to reflect new information coming in.
This data-driven approach yields predictable results and measurable ROI. We guarantee our results because we know the decisions we recommend to clients are based on data, not guesswork. Our innovative approach transforms influencer marketing from an intuitive campaign decision into a measurable, ROI-based science.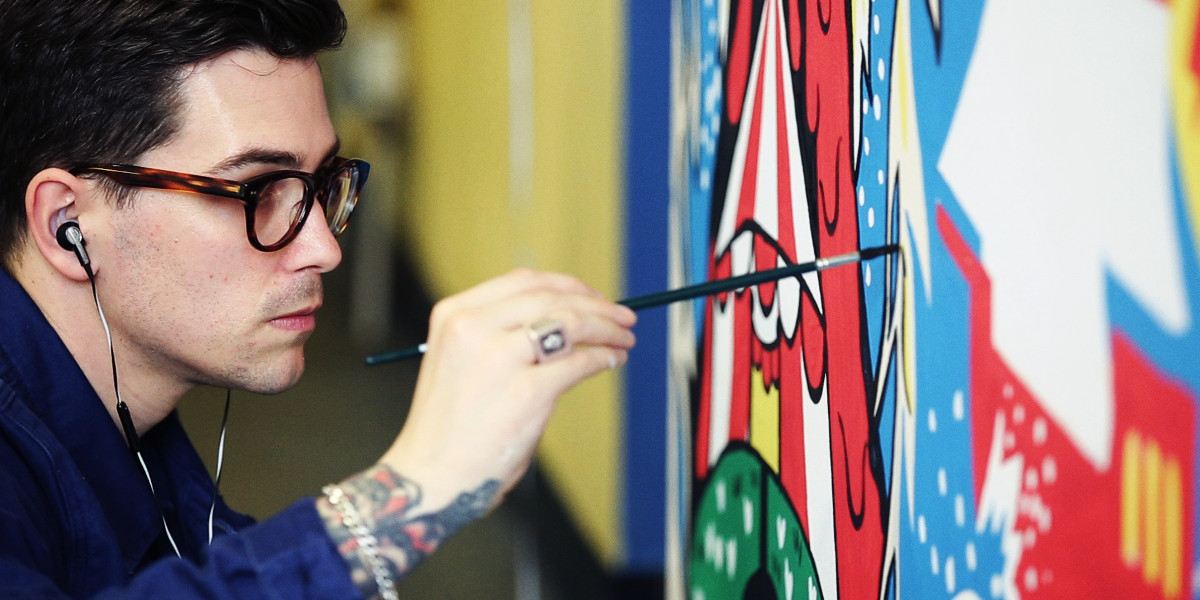 Courtesy @RicardoCavolo
Bringing ROI-based AI Together with Best-in-class Visual Art Marketing
What do you get when you bring a data-driven approach to influencer marketing together with world-class visual art marketing? By combining these two winning ingredients, RAD Visual Arts helps marketers apply ROI-based decision-making to the world's most talented visual artists.
Marketers can now:
Define campaign objectives in terms of measurable KPIs
Pinpoint ideal audience personas by drawing data from over 600 APIs
Identify which world-class visual artist is ideally suited for your target audience
Determine which content perfectly match your audience's preferences
Work with world-renowned visual artists to develop unique, authentic artistic creations that get audiences excited about your brand
Benchmark your campaign performance against historical benchmarks
Optimize your campaigns by incorporating audience feedback
Optimize your visual influencer marketing spend based on measurable results
In short, you no longer have to guess which visual artists to partner with, which audiences to target and what type of content to create.
Marketing as Art: Creating Cultural Moments and Communities through Collaborative Content
By applying AI-informed creative intelligence to visual art marketing, RAD Visual Art gives marketers the keys to unlock the power of art for their brand. Marketing campaigns now become cultural moments that build communities around shared values and passions expressed through unique products and content.
We are here to help you set up your next cultural moment while meeting your campaign goals and KPIs. Contact us to talk about how RAD Visual Arts can help you harness the marketing power of best-in-class art and AI.


---
Written by Tyson Black
Tyson specializes in helping brands build and scale cutting-edge influencer marketing campaigns.He has worked with and led multiple teams to execute and optimize end-to-end creator-focused initiatives that are measurable, scalable, and impactful for brands of all shapes and sizes - including Samsung, Porsche, Dollar Shave Club, Adobe, Jeep, Dodge, PayPal, Credit Karma, Honda, Draft Kings, and more.