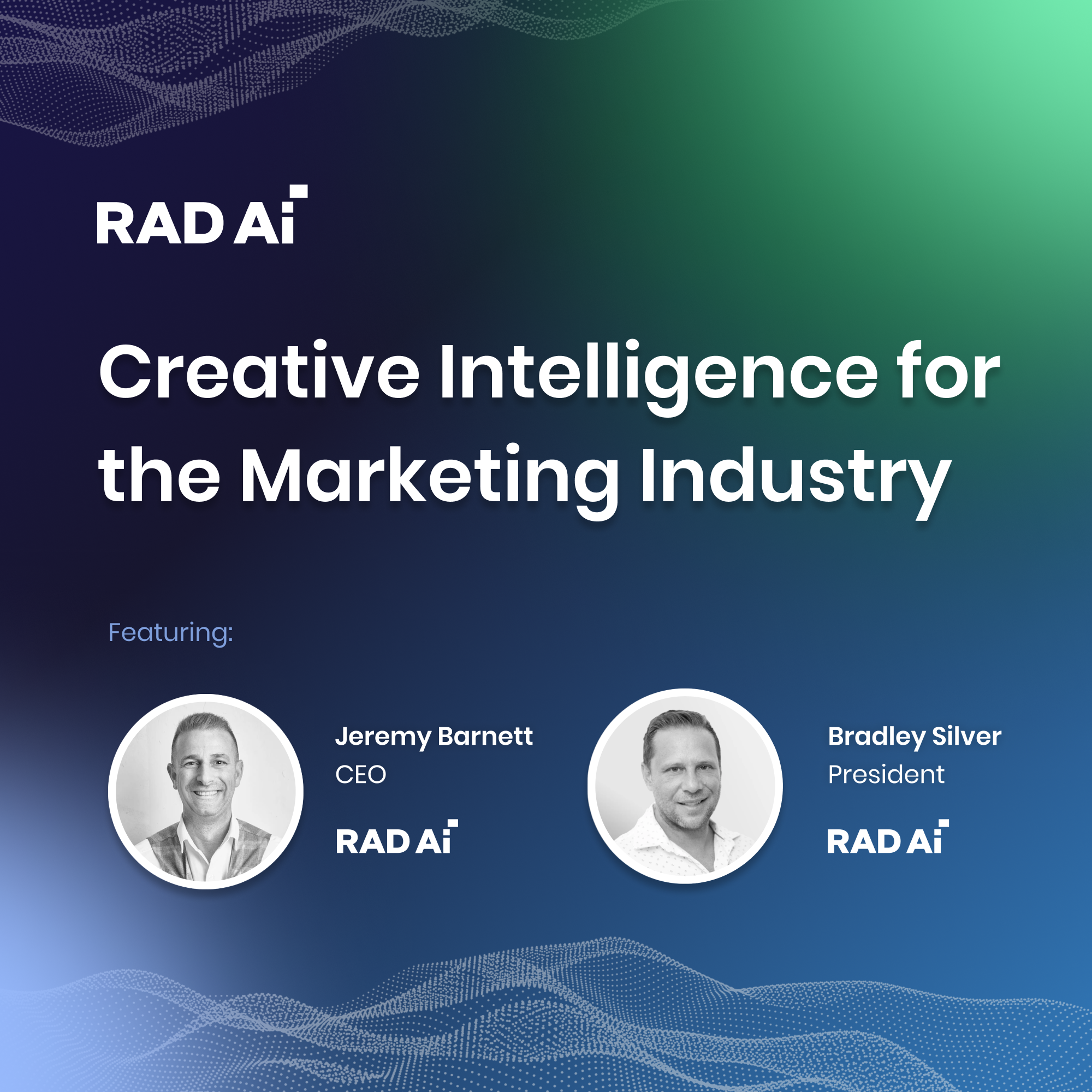 A Conversation with RAD's Leadership
by Katie King
Over the past few years, RAD AI has been driving incredible communications campaigns for companies from various industries. Helping brands tell their stories is what we do. However, we also are aware that some of you may have only just been introduced to us and that others may be wanting to know a bit more. So, we thought this would be a great time to tell our story, and who better to tell it than those at its heart?

We spoke to our Co-Founder and CEO Jeremy Barnett (JB), Co-Founder and President Bradley Silver (BS), and our new Chief Growth Officer Stephen Klein (SK) about what makes RAD different and to gauge their insights into what lies ahead. Here's what they had to say:
To get us started, let's talk a bit about the beginnings of RAD. Where did the idea come from? What led you down the path of creating emotionally intelligent AI?
JB: RAD AI as it exists today would not have been possible if not for the merger. Initially, RAD started out as a creator-enabled platform. The product was decent, but there were a lot of similarities between what we were doing and what others were doing. I came across Bradley's technology, and it was the first platform I used that didn't just give me loads of information but actually made sense of it. We felt like we could be so much stronger together, so we combined forces to create the company and product that we have today.

We started by identifying a common problem across enterprise brands. We found major correlations between emotional intelligence and ROI, yet this seemed to be an area that no one else was really touching. Today's consumers have different needs, habits, and expectations than generations past. Brands want to connect with these consumers, but most of the time they just don't know how to do it effectively. Creating that emotional connection seemed to be the missing piece, so we decided that our internal mission would be to rid the world of bad communication and keep brands accountable in their interactions with customers.

If we had a friend that was constantly lying to and misleading us, we simply would not be friends with that person anymore. So then why should we as consumers accept spammy, lame, and ingenuine communications from the brands we do business with? It seemed to us like many brands simply did not know how to connect in a genuine way. That was sort of our "aha" moment, and we built the world's first AI with an EQ as a result.

BS: We no longer live in a world where marketers can broadcast a one-size-fits-all message to their audiences. To communicate effectively in the digital age, you need to understand who you're talking to and how best to reach them. What's driving customers' interests? What are they talking about in their online communities, and how do these conversations impact their behavior? What are they reading and consuming? What emotional connectivity is taking place?

We thought it would be interesting to mine that information and build personas around it. Instead of viewing consumers as these somewhat faceless demographic groups, we present them in a much more human way. Customers are real people with their own interests, priorities, hobbies, and needs. By taking the time to understand them on this level rather than just viewing them as numbers and data, brands can begin to form genuine connections. We have found a way to do this using artificial intelligence, and it's interesting and unique to me that our technology is able to do something that's so innately human.
Stephen, you came to RAD with vast experience in helping businesses around the world connect with their audiences. In your view, what does RAD offer to the martech and marketing space that we aren't seeing elsewhere?
SK: Many years ago, I had the privilege of working on a project with Apple, and Steve Jobs happened to be in the room. He said something to the effect of, "The trick with technology is to avoid spreading darkness at the speed of light." Well, unfortunately what I've discovered is that a lot of the martech tools available today are doing exactly what that statement says not to. So many of the platforms available today are simply doing marketing as it's always been done but doing it faster and measuring it more carefully. As a result, bad marketing is simply going around quicker instead of being rethought or approached with a fresh perspective.

RAD is bringing in that breath of fresh air marketing needs. While most platforms tend to focus on sentiment, RAD focuses on things like emotion and resonance to help its clients tell stories that are meaningful, memorable, and valuable. To me, that is just extraordinarily exciting because there seems to be a lack of that in the industry.
What types of companies does RAD work with?
JB: We are pretty industry agnostic. If a brand has a story to tell, we're happy to help them tell it. We've worked with clients in healthcare, entertainment, publishing, and more and are in the early stages of working with some exciting clients in travel and hospitality as well as financial services. The way we see it, authenticity is an issue faced by organizations in every industry. We have an intelligent and adaptive platform that can help combat that, so why limit ourselves?
Data privacy is a huge topic of concern these days, and customers have become a bit wary about how their information is collected and used by the brands they do business with. How is RAD AI navigating these issues?
BS: That's part of the beauty of our data collection and our platform. All the data we collect is anonymous and in aggregate form, so there's no unique identifiers. Our data source is public and enormous, and our models are adaptive. As new data sources come online or the information changes, the models adapt according to the dynamics of the world. We addressed the changes Europe's GDPR legislation brought about a few years ago and will continue to adapt to changes in policy and privacy as needed to ensure everyone stays safe.
There has been a lot of mistrust in media and business over the past few years because of deepening divisions in society. As a platform built on authenticity, how does RAD ensure that its messages do not contribute to this mistrust?
SK: There is a lot of sneaky stuff that goes on in marketing, as well as a lot of tricks and games. Marketing people are usually pretty good at marketing itself, but that doesn't always mean that what they're marketing is good. I think our most effective weapon against this is that we align our values, ethics, and integrity with the authenticity algorithms that Bradley has developed.

BS: RAD AI does not and will not work with companies that are doing things that do not align with our company values. In the past, we have refused to continue relationships with clients who were promoting a product that we didn't believe in, or that we felt was overpromised and inauthentic. If we're going to push authenticity to our clients, then we ourselves need to remain authentic and true to what we stand for. RAD is a company with integrity, and no dollar amount will ever outvalue the standards we set for ourselves.
RAD has achieved so much in such a short amount of time. What made that possible? What enables you to keep 'winning'?
JB: I think it comes down to our people. There's a very focused environment spanning from the board and leadership to the directors, the Customer Success folks, and the engineers, some of whom have been with Bradley for over eight years. We have a great group of people who believe in our vision and are going to do everything in their power to make this thing succeed.

We're gonna 'win' because what we do is special, unique, and delivers return on investment. The reason clients stay with us is because we don't just tell them, "Hey, here's a campaign. See you later." We integrate with their creative teams and paid media environments to form a real partnership. Our clients know they can depend on our team, our technology, our methodology, and our process. Our team becomes almost like a part of their team. I think a key factor of what makes us great.
Following on from that, what's next for RAD AI? Jeremy and Stephen, where do you see the business going? Bradley, what's next for the tech?
JB: Long term, I can see us potentially going public or being acquired by someone who shares our vision and values. In the shorter term, we have some great new clients coming onboard, an investment grant, and a fundraise that has been incredibly successful so far. As I said before, we have a super committed team that is really invested in making this thing work, so the only way is up from here.

SK: What I find so exciting about RAD AI is that we're very, very close to cracking that 'holy grail' of being able to improve clients' ability to communicate with their audiences in a way that's authentic, emotionally connected, and not annoying. Our technology is there, and our proofs of concept speak for themself at this point.

I imagine we will continue to grow our relationships with current client base and bring in more from other industries and geographies. When you combine the business drive of people like Jeremy with the technology genius of Bradley and his team of engineers, the possibilities for RAD are endless.

BS: I get so excited when I think about the immensity of what we're able to do and the billions of data points and pieces of content that we're able to analyze. The world of technology has changed so much in just the past couple of years. Imagine what it could look like in just a couple more if we put state-of-the-art technologies into the hands of regular people. To me, that's awe inspiring. It's mind blowing, and it's why I get out of bed in the morning. The potential is limitless, and the world is ever-changing. Our technology will continue to evolve and adapt alongside it.

You can learn more about Jeremy, Bradley, Stephen, and the rest of our RAD team here.
---
Written by Katie King
Besides her work with RAD AI, Katie works closely with schools, colleges and universities, focusing on modern issues surrounding employment, community and AI ethics. Katie has over 30 years' experience and has worked with many of the world's leading business leaders, including Richard Branson/Virgin, o2, Orange, Accenture, PA Consulting, Huawei, Arsenal Football Club and Harrods. Katie is a 2X TEDx talks speaker and is a frequent commentator on BBC TV and radio.