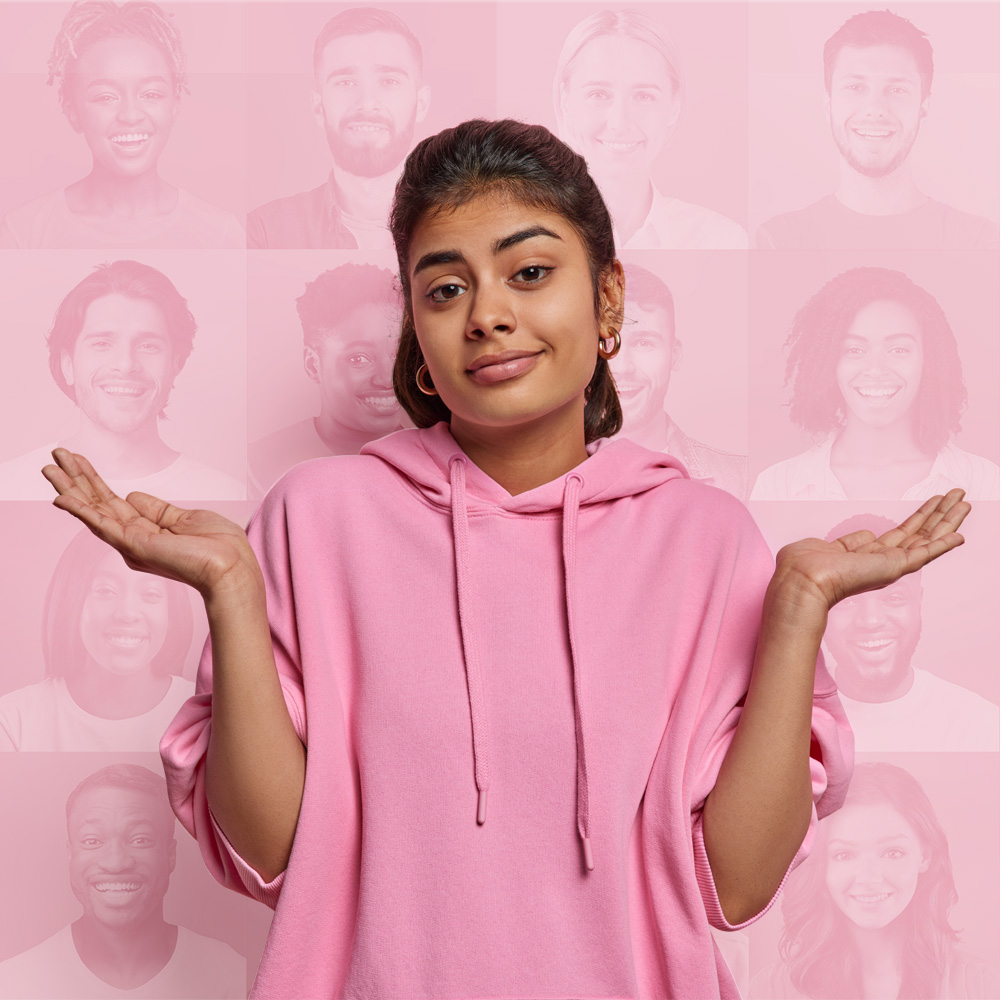 The Opaque Nature of Influencer Marketing
by Tyson Black
The Opaque Nature of Influencer Marketing
The influencer marketing industry was worth an estimated $16.4 Billion in 2022, according to an annual benchmarking report by Influencer Marketing Hub. All signs point to exponential growth in the next decade and beyond. Influencer marketing is now a non-negotiable for most companies.
But you know that already.
You also know that, while the influencer marketing industry continues to grow in prominence in every major brand's media mix, there are still those nagging questions, aren't there? The blank looks around the boardroom table about campaign effectiveness.
Then there's the endless challenge of extracting true ROI from the precious marketing funds invested in influencer marketing. These reservations linger despite other, more 'traditional' channels and approaches never prompting the same level of scrutiny or challenge. Why is this?
Frankly, it's because the influencer marketing industry has a legacy of being opaque. In our work with brands from many industries, we see the same themes again and again - from consumer packaged goods, healthcare, B2B, education, finance, travel, and hospitality to media and entertainment.
Too often, influencer marketing leads to misleading results, vague performance metrics and, perhaps worst of all, conflated work done by agencies and their 'partners' that are borderline deceptive. If you've purchased influencer marketing in the past, you will be familiar with this, too.
This situation stems from too many brands accepting mediocre, meaningless performance for too long. This is precisely why Fortune 1000s and Tier 1 enterprises from multiple sectors globally now use RAD AI: we deliver transparent performance, insights and ROI.
We believe in setting things up for success from the start. Before any influencer is booked, RAD AI uses its creative intelligence to understand the target customer persona to drive both the creative strategy and influencer selection. This essential step is missed all too often, and without it, a performance-based influencer marketing campaign is based purely on guesswork.
The problem with influencer marketing campaigns
Too often, influencer marketing "solutions" from both agencies and brands use biased opinions when developing their creative strategies. We all know this game: agencies push their favorite influencers based on personal relationships and convenience, using the good old magic black box of ROI to justify why creators are booked.
This results in major problems for marketing leaders that ripple over onto the brand they represent. These problems stem from a lack of creative intelligence and actionable insights, which make influencer marketing an exercise in guesswork with no quantifiable ROI. Without reliable data to inform your decisions, the creator content produced—no matter how powerful—can't be fully leveraged throughout your marketing mix. This waste of resources leads to wasted spending.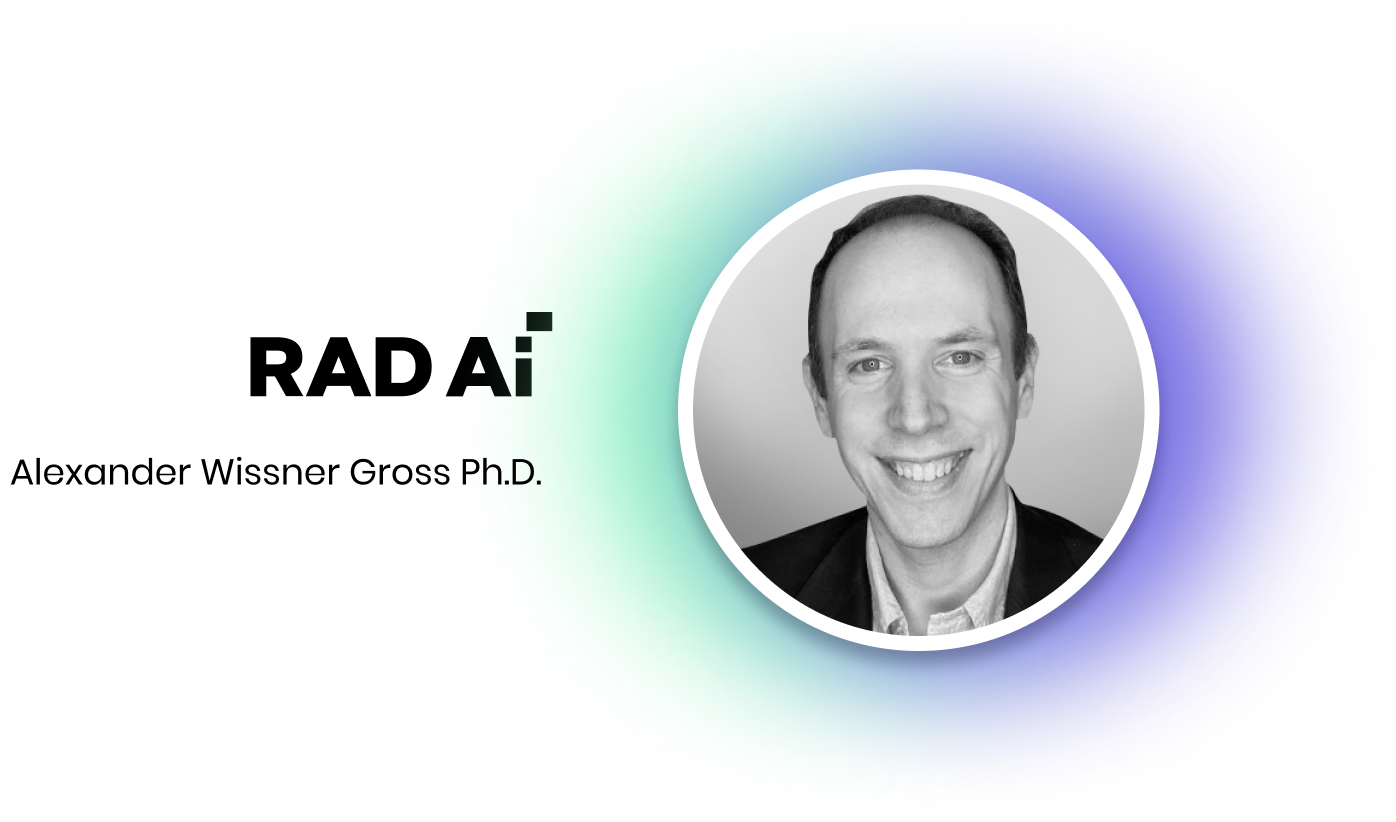 Explaining the direct, bottom-line impact of influencer marketing to the wider C-suite often has been a challenge. According to RAD AI founding advisor Alexander Wissner-Gross, Ph.D., distrust in campaign credibility impacts how buyers understand influencer marketing value. This universal misunderstanding creates skeptics up and down the value chain. Wissner-Gross says:
"The recent rise of generative AI promises to make digital marketing content radically less expensive to produce, but at the cost of human authenticity. On the other hand, the best conventional influencer marketing programs offer high authenticity, but come with expensive content creation costs. RAD AI is combining the best of human authenticity and AI optimization to transform the influencer marketing space. In the process, RAD AI is solving a number of problems that plague conventional influencer marketing programs.
First, RAD AI ensures that its influencer campaigns have the same level of intuitive and quantifiable returns on investment as pay-per-performance ad buys, an industry first.
Second, RAD AI uses artificial intelligence to remove bias from creative decisions that might otherwise go undetected and eventually reduce the long-term value of a brand.
Third, RAD AI uses state-of-the-art machine learning techniques that were optimized for influencer marketing, unlike other providers who use decade-old approaches and systems."
At RAD AI, convincing the skeptical starts with moving beyond definitions of success or failure based on superficial metrics like engagement rate and impression volume. Instead, we use metrics that matter to benchmark a brand's historical content performance. Clients no longer need to play the guessing game about what content is driving relevant outcomes.
Lack of real-time insights
It's not just the CFO who may not be up to speed on influencer marketing. The majority of unsuccessful campaigns can be traced to lack of real-time understanding of customer needs.
Far too many companies rely on central-casting sources of information when developing their creative strategy. When brands fail to leverage the right set of insights into their target customer persona, the rest of the campaign potentially suffers.
Campaigns typically fail due to guesswork-based approaches based on historical performance. This impacts results commercially, leading to missed opportunities that hurt ROI.
With RAD AI, a new standard is upon us. Our solution leverages real-time insights with the processing power of 600+ data partners alongside a unique API connection with Reddit. We've trained our AI to use these data connections to understand target audiences and what they want now, not yesterday or last year. This empowers a tailored creative strategy that maximizes campaign ROI.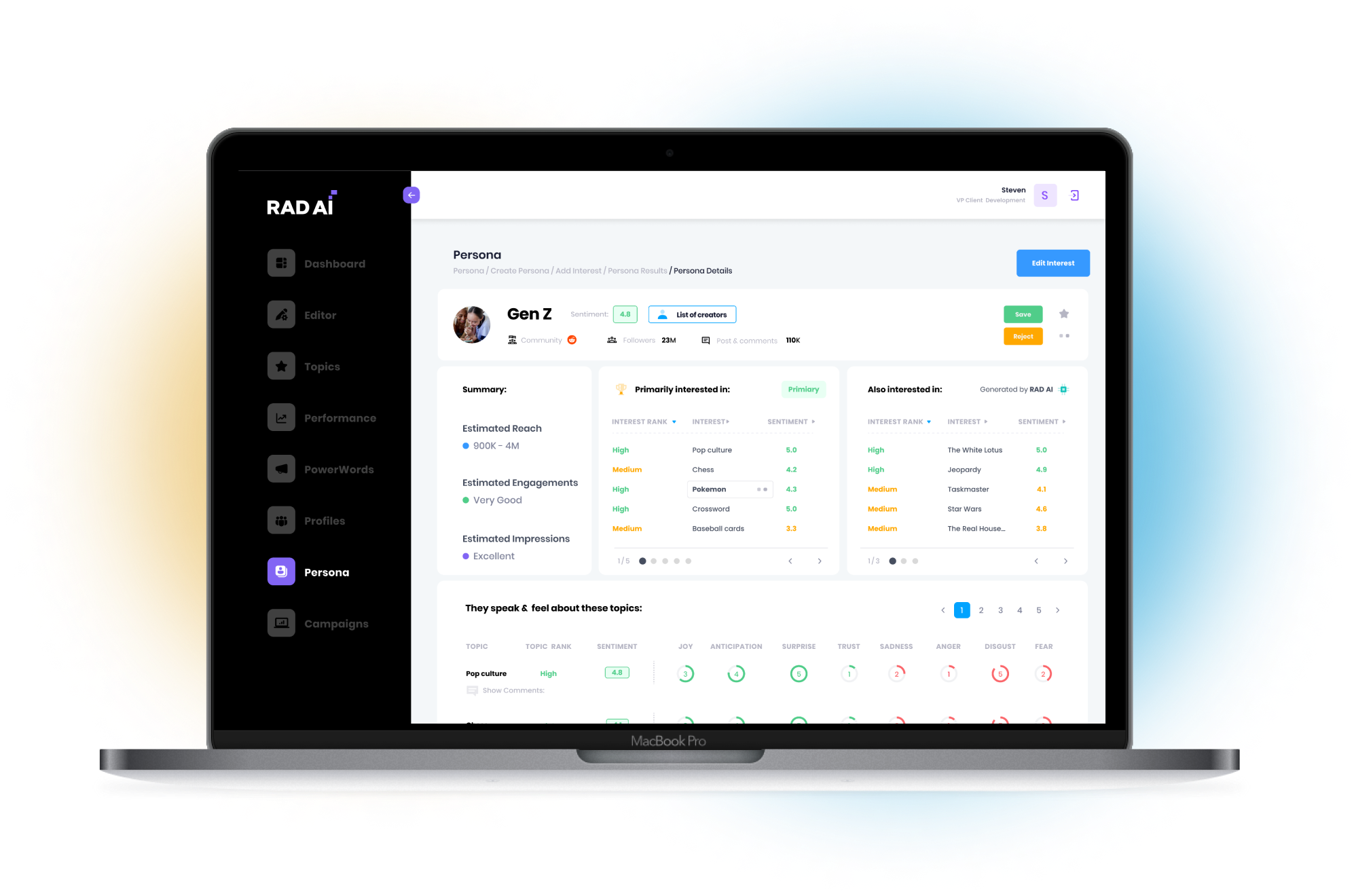 By using Reddit as an API partner, we tap into authentic communication and insights that would be otherwise difficult to obtain through other means. This allows for more personalized, relevant, timely and effective influencer marketing campaigns.
---
Written by Tyson Black
Tyson specializes in helping brands build and scale cutting-edge influencer marketing campaigns.He has worked with and led multiple teams to execute and optimize end-to-end creator-focused initiatives that are measurable, scalable, and impactful for brands of all shapes and sizes - including Samsung, Porsche, Dollar Shave Club, Adobe, Jeep, Dodge, PayPal, Credit Karma, Honda, Draft Kings, and more.